There was no whining allowed when I was growing up. My father served in World War II. He was at Pearl Harbor on December 7, 1941. He survived.
He served in Korea. He survived but at great cost. After a mortar attack, he lost his right leg above the knee. He almost never complained about his situation, but you know it was a source of regret and what ifs. There was no whining or "woe is me" at our house. You couldn't use an injury or bad circumstances as an excuse. It just wasn't done.
We lived in the projects in the Homestead area of Pittsburgh when the city was the steel capital of the world. I never thought much about where we lived. I was five years old when we moved to the suburbs. Our home was modest. Again, I never thought much about it. You did what you had to do.
Principles of War
In Principles of War, longtime evangelist and preacher Jim Wilson outlines the time-tried, fundamental principles of war and explains how we can employ them in our daily spiritual battles as we fight a war which THE Commander-in-Chief has already won for us.
Buy Now
I never heard my father say, "Look at me, I only have one leg. What are you complaining about?" It was more by example. He golfed, walking the course. Belonged to a bowling league. Swam and dove off the diving board at the community pool. Poured concrete for a sidewalk, steps, and patio. Coached Little League baseball.
After my mother's death at 94 in August 2016, my two sons and I were going through a box of photographs after her memorial service in Houston, when we came across a photo of my father with the "Cole Family." This was the first time I learned that my father had been in foster care for some years. His name appears on a 1930 Census form as being with the Coles. He would have been 12 years old. He's in the back row, far right. One of my grandsons is named after him: Anthony J. DeMar.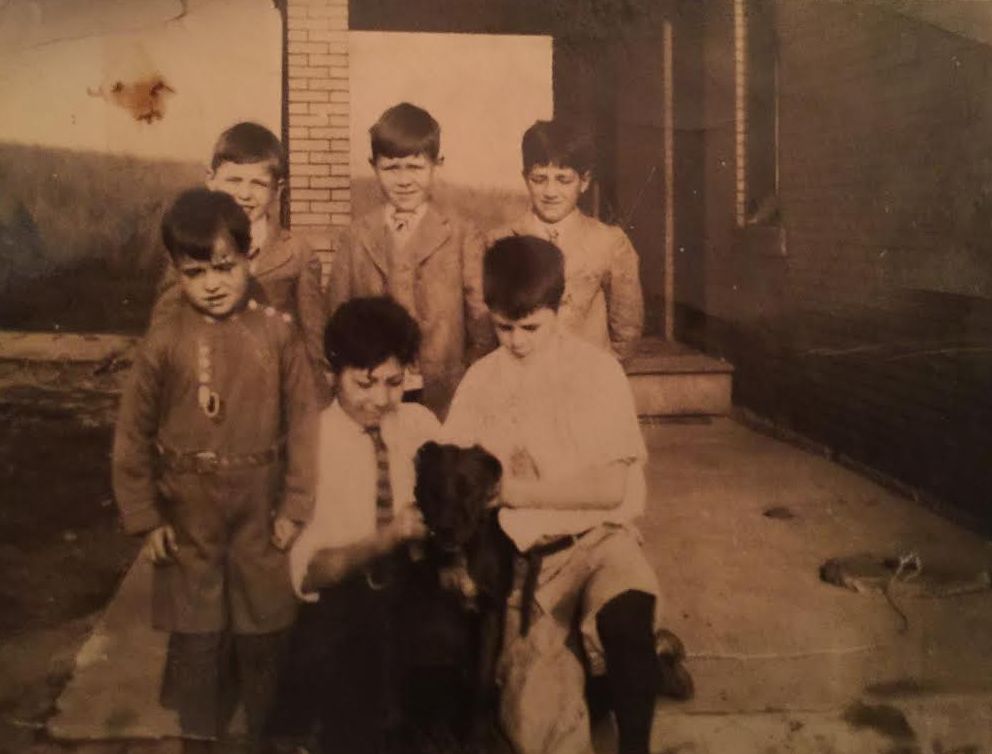 Nothing was ever said about these "lost years." When my oldest son was doing research for Italian citizenship, he found the census record. He let the De Mare (our real name) side of the family know about some of our family's history. He found out from a cousin that her dad, my father's younger brother, was also in foster care during this time. Those were hard economic times. My father had 10 brothers and sisters. My mother was one of 12.
We live in a culture where it's easy to whine in the face of the slightest hardship. If something doesn't go right, many people give up, blame others, and use the system to mandate their rights. For some, there is no desire to take the hard path, to choose to do hard things. Of course, it's not everyone, but there's enough of them that they get a great deal of attention. We're made to believe that society is at fault for their manufactured hardships. I'm sorry, but I'm not moved by any of it.
I am moved and inspired by people who do hard things and do them well, who grind it out even though there is no immediate reward. There are people who labor all their life at a job or a field of study and get no public recognition. They grew up understanding that you do what needs to be done.
I watched a documentary called My Name is Salt. There is no narration, but it's fascinating. Watch it with your children and ask them, "How would you like to do that for a living?" 
Year after year, for an endless eight months, thousands of families move to a desert in India to extract salt from the burning earth. Every monsoon their salt fields are washed away, as the desert turns into sea. And still they return, striving to make the whitest salt in the world.

The desert extends endlessly—flat, grey, relentless. There is not a tree or blade of grass or rock. But there is one thing in abundance: salt. Salt is everywhere, lying just beneath the cracked, baked surface of the earth…. And for eight months of the year, the salt people live here—laboriously extracting salt from this desolate landscape. They have been doing this for generations.

*****

Two of Sanabhai's children—a boy and a girl aged eleven and eight—go to a school recently opened by an NGO. Every day at 11, after their morning's work at the salt pans, they cycle off to school—just another hut in the vast emptiness of the desert, but with one difference: the children have planted paper flowers around it.
It's a fascinating slice of the life of how some people around the world live and make a living. They bring the necessary materials to construct living quarters and even a separate school room for the children to study. So much whining takes place among vocal groups today. Yes, it's a minority, but it's a coddled minority that gets a great deal of attention. I'm afraid that it's getting contagious.
It's so bad that big name companies bow to their complaints. The slightest infraction is met with an attack and a demand for an apology. Here's the latest: "CNN apologized to viewers after misgendering transgender activist Dylan Mulvaney in a segment." Here's the story:
"Yesterday [7/11] in a segment about transgender influencer Dylan Mulvaney, who was featured in Bud Light's recent campaign, she [sic] was mistakenly referred to by the wrong pronouns," Bolduan said. "CNN aims to honor individuals ways of identifying themselves and we apologize for that error."

Correspondent Ryan Young referred to Mulvaney as a "he" and it went without correction until today. The segment drew backlash on social media. Young interviewed people on the street in Nashville to get their takes on Mulvaney.
Mulvaney has been so traumatized by "Bud Light's worst decision ever, has left America in hopes to feel safe" in Peru! Maybe he should go to India to cultivate salt.
It's not enough to do hard things and accomplish hard tasks. They must be passed on by example and passed on to future generations. It doesn't matter what the task is. Work to be good and even great at something. And even if you don't accomplish "great things" as the world evaluates greatness, there is always greatness of character that knows no bounds.
Vindiciae Contra Tyrannos
Written in 1579 by an anonymous Huguenot, it is a powerful tract that makes a case for why Christians can, and must, lawfully resist and fight against tyrants and persecutors of the faith. The apostles told the Jews that they needed to obey God rather than man when it came to the Gospel, and to this day many Christians need to be reminded that men only derive their power from God and there are indeed times when resisting the authorities may be lawful and even biblically required. It is thoroughly biblical and a great testament to the courage and convictions of our fathers in the faith.
Buy Now