The Christian's view of the future determines how he lives, plans, and works in the present for the future. Even during Israel's captivity under Babylonian rule, the nation's darkest hour, the people were told to plan and build for the future: "Build houses and live in them; and plant gardens, and eat their produce. Take wives and become the fathers of sons and daughters, and take wives for your sons and give your daughters to husbands, that they may bear sons and daughters; and multiply there and do not decrease. . . . For I know the plans that I have for you, 'declares the LORD,' plans for welfare and not for calamity to give you a future and a hope" (Jer. 29:5–6, 11).
God's words seemed contrary to what people saw all around them. Destruction and captivity awaited the nation, yet God commanded them to prepare for the future. In spite of every pessimistic view, God wanted the people's desires and hopes to be future‐directed. Build for what will be. The psychological benefit of such a mindset does much to spur the church of Jesus Christ to greater kingdom activity. A preoccupation with defeat brings defeat by default. Why would anyone wish to build for the future when there is no earthly future hope? Who would invest in a losing proposition? Why should anyone work to establish a godly home, school, business, or civil government when all such institutions seemed doomed despite our efforts?
"We must become optimists concerning the victory that lies before Christ's people, in time and on earth. We must be even more optimistic than Joshua and Caleb, for they were only asked to spy out the land of Canaan. They were called to give their report prior to Christ's sacrifice at Calvary. Why should we be pessimistic, like that first generation of former slaves? Why should we wander in the wilderness, generation after generation? Why should we despair?"[1] The hope of the future is real because Christians should know that God governs the affairs of men and nations (Ps. 22:28; 47:8; 127:1; Dan. 4:35). All conspiracies, no matter how well planned, will be put to an end by the God who rules from heaven (Ps. 2).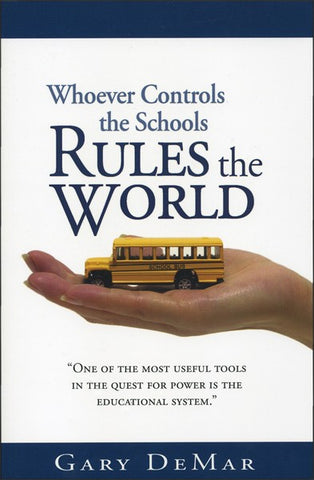 Whoever Controls the Schools Rules the World
It's been said that "the philosophy of the classroom in this generation will be the philosophy of life in the next generation." Our earliest founding fathers understood this. That's why, after building homes and churches, they established educational institutions like Harvard, Yale, Columbia, and Dartmouth. Over time, most Christians have adopted the false premise that facts are neutral. They believe it doesn't matter who teaches math, science, and history, because facts are facts. The humanists took advantage of this type of thinking by gradually shaping and controlling education in terms of materialist assumptions.
Buy Now
Gary discusses a recent interview that he did about America's Christian history and education. Our children are being harmed by what they are not being taught, as well as by what they are. Parents must first educate themselves and then pass this on to their children and grandchildren in many different ways and times.
Click here for today's episode
Click here to browse all episodes of The Gary DeMar Podcast
---
[1] Joseph McAuliffe, "Do Business Until I Return," New Wine (January 1982), 29.