"When seconds count, the police are only minutes away." In Maine, another rampaging murderer entered a 'Gun-Free Zone' and did what evil people do. They don't care about laws; that's why they murder people! 'Gun-Free Zones' are an open invitation to crazy people and those with deep-seeded grudges. The Left's solution? Take defensive weapons away from everyone! Those living on the border with Gaza in Israel learned the hard way why this approach is a literal death sentence.
In September of 2019, Joe Biden criticized a new Texas law that permitted church members to be armed while attending church services.
It is irrational, with all due respect to the Governor of Texas, it's irrational what they're doing. … And we're talking about loosening access to have guns? Being able to take them into places of worship, store them in schools, it's just absolutely irrational.
If someone is hell-bent on killing people, what makes anyone think they are going to obey gun laws?
There was a time in the United States when it was unheard of that someone would shoot up a church. There was no need to be armed. It's different today. There are people who argue that there is no god and live consistently with that belief. Morality is relative. There's no judgment after death. We're just evolved bags of meat and bones. Survival of the fittest.
Why it Might be OK to Eat Your Neighbor
The most damning assessment of a matter-only cosmos devoid of a Creator is that we got to this place in our evolutionary history by acts of violence whereby the strong conquered the weak with no one to support or condemn them. Why It Might Be OK to Eat Your Neighbor repeatedly raises the issue of accounting for the conscience, good and evil, and loving our neighbor. It's shocking to read what atheists say about a cosmos devoid of meaning and morality.
Buy Now
With this dramatic change in worldview thinking, all that the Left can think of is taking defensive weapons away from law-abiding Americans.
Even some Christian theorists decry the call for self-defense.
Brian D. McLaren, described as "one of the most influential Christian leaders in America and . . . recognized by Time Magazine as one of the 25 Most Influential Evangelicals in America in 2005" has written a long article condemning Jerry Falwell, Jr.'s comments on self-defense:
"For us, authentic Christianity is the loving, peaceful, just and generous way of life embodied in Jesus. It is characterized more by self-giving than self-defense, by pre-emptive peacemaking rather than pre-emptive violence."
"Authentic Christianity" includes the whole Bible. Being loving, peaceful, just, generous, and self-giving do not nullify our responsibility to be prepared with a good "self-defense" strategy if we are ever confronted with a killed or be killed situation. Being armed and willing to defend ourselves, our family, and our neighbors is not being unchristian or even unloving. Self-defense can go a long way to protect the innocent from people who are intent on murder for whatever reason and serve as a warning to those who might try something in the future.
How "self-giving" should Christians be at dying at the hands of murderers, or would it have been more loving to stop those who were pumping bullets into people?
McLaren's article is devoid of any actual biblical content. Jesus tells us "Blessed are the peacemakers" (Matt. 5:9), but He doesn't tell us what our response should be when someone, despite our best efforts to be peaceful, wants to steal, rape, and murder. We need to look at other parts of the Bible for help since the whole Bible is God's Word and not only the words of Jesus in red.
What about Jesus' injunction to "turn the other cheek" (Matt. 5:38-39)? There's a difference between slapping someone across the face and someone wanting to take a baseball bat to your head or the head of your wife and children. Self-defense is a biblical option in such cases. Consider this passage from biblical case law:
If the thief is caught while breaking in and is struck so that he dies, there will be no bloodguiltiness on his account. But if the sun has risen on him, there will be bloodguiltiness on his account. He shall surely make restitution; if he owns nothing, then he shall be sold for his theft (Ex. 22:2-3).
The homeowner can assume that someone breaking into his house at night has nothing but bad intentions. He may be armed or not. The homeowner does not have to ask any questions to find out. The homeowner can respond by striking the intruder "so that he dies." If this happens, even if the attempt was only theft (unknown to the homeowner), the homeowner is cleared of all guilt in the thief's death.
Daytime is a different story because the victim can make a better assessment of intent. If two people enter a building with a shotgun, as happened in the Texas church, killing these people before they kill you and others is the right thing to do. Being loving, peaceful, just, and generous, and self-giving do not apply. To put it simply, there's no time.
In the 1959 film Ben Hur, there is a discussion between Balthasar and Judah Ben Hur about seeking revenge.
Judah: I must deal with Messala in my own way.

Balthasar: And your way is to kill him. I see this terrible thing in your eyes, Judah Ben-Hur. But no matter what this man has done to you, you have no right to take his life. He will be punished inevitably.
Overhearing their conversation, Sheik Ilderim says, "Balthasar is a good man. But until all men are like him, we must keep our swords bright!" If all those in the world had the heart of Balthasar, then there would be no need to discuss what the right response is regarding self-defense.
The story of David and Goliath is helpful since "five smooth stones" and a "sling" are the closest equivalent to a handgun we can find in the Bible. David seems to have always been armed with his sling. There was no way he could run home to get his weapon when a lion or a bear was about to attack his flock (1 Sam. 17:31-37, 41-54).
It's possible that Jesus had the Old Testament case law in mind when offered this injunction to His disciples:
But be sure of this, if the head of the house had known at what time of the night the thief was coming, he would have been on the alert and would not have allowed his house to be broken into (Matt 24:43).
But of course, you rarely know when someone is going to break into your house or decides to kill people in your church, therefore, you must be on guard all the time. 
In another passage, Jesus is teaching by analogy:
When a strong man, fully armed, guards his own homestead, his possessions are undisturbed. But when someone stronger than he attacks him and overpowers him, he takes away from him all his armor on which he had relied and distributes his plunder (Luke 11:21).
A fully armed strong man is a deterrent to most thieves. It's the fact that the strong man is armed that protects potential thieves from being harmed. Another strong man will think twice about ever trying to rob or harm someone who is armed.
Here's what critics of armed church members miss: Armed people save lives by making evil people think twice about attacking a person or place where there might be some armed pushback. One could say that it's loving to be armed since it might stop someone who has evil intent from not following through with an evil act.
The most famous New Testament passage is a command of Jesus for His disciples to sell their garments and buy a sword (Luke 22:36-38). Personally, I do not believe this is a good proof text for being armed, but it does show that being armed was a norm for that time, and Jesus does not object. 
Peter impetuously uses his sword against a servant of the high priest (John 18:10; Matt. 26:51; Luke 22:50) who had come out with a crowd armed with clubs and swords (Luke 22:52). Under normal circumstances, swords were permissible for self-defense, otherwise why did the "chief priests and officers of the temple and elders" have them? There is, however, something else going on here of biblical theological importance that has little to do with self-defense.
No matter how the sword passage is interpreted, at no time did Jesus condemn anyone for having a sword. The disciples lived in dangerous times (Luke 10:29-37). Furthermore, the Romans didn't seem to have a problem with their subjects (the Jews) owning swords.
Gun-Free Zones are soft targets for people who have no regard for the law. The gunman who killed the people in Luby's Cafeteria in Killeen, Texas, October 16, 1991, had broken the law by bringing a firearm into a place where the law said it was unlawful. Murderers are, by definition, lawbreakers.
[The murderer who killed 23 people and wounded 20 more] was reported to have walked from table to table, choosing his victims. One unarmed man, Al Gratia, tried to tackle Hennard, but was immediately gunned down. As Mr. Gratia's wife was comforting her dying husband, the gunman shot her in her head.

The couple's daughter, Dr. Suzanna Gratia-Hupp, was with her parents in the cafeteria, and witnessed their murders. Gratia-Hupp owned a handgun, but had obeyed the law, taking it out of her purse and leaving it in her car. She later testified in Congress that she wished she had violated the law that day, because her parents might still be alive. "I've hit much smaller targets at much greater distances," she said.

*****

Thankfully, enacting more gun control was not the approach taken in Texas. In response to the Luby's Cafeteria shooting, Texas in 1995 took the common-sense step of legalizing concealed carry, thereby giving people the ability to protect themselves in public. The battle for concealed carry was led by none other than Dr. Gratia-Hupp, who was later elected to the Texas legislature as a champion of gun rights.
Should churches and schools, for example, ensure that there are armed and trained people at every church and school? Absolutely! Christians might say, "But we should put our trust in God." God has given us the ability to reason and assess the times like the sons of Issachar, "men who understood the times, with knowledge of what Israel should do, their chiefs were two hundred; and all their kinsmen were at their command" (1 Chron. 12:32).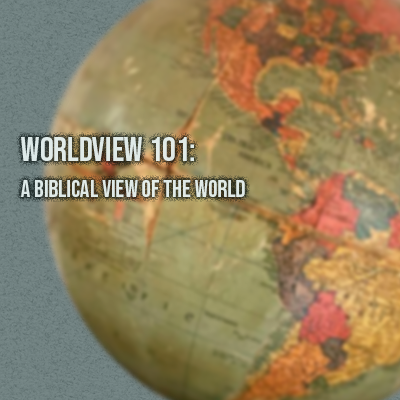 Worldview 101: A Biblical View of the World
Utilizing audio, video, and printed material, Worldview 101 will equip the student with the tools necessary to "think God's thoughts" about the world and the created order. It will reveal and re-direct the humanistic thought patterns that exist in each of us. The Enlightenment promised freedom, but brought slavery to man's ideas instead. Worldview 101 points the way forward to true freedom of thought in Christ.
Buy Now
Consider the following from the book of Nehemiah:
But when Sanballat, Tobiah, the Arabs, the Ammonites and the people of Ashdod heard that the repairs to Jerusalem's walls had gone ahead and that the gaps were being closed, they were very angry. They all plotted together to come and fight against Jerusalem and stir up trouble against it. But we prayed to our God and posted a guard day and night to meet this threat.

Meanwhile, the people in Judah said, "The strength of the laborers is giving out, and there is so much rubble that we cannot rebuild the wall."

Also our enemies said, "Before they know it or see us, we will be right there among them and will kill them and put an end to the work."

Then the Jews who lived near them came and told us ten times over, "Wherever you turn, they will attack us."

Therefore, I stationed some of the people behind the lowest points of the wall at the exposed places, posting them by families, with their swords, spears and bows. After I looked things over, I stood up and said to the nobles, the officials and the rest of the people, "Don't be afraid of them. Remember the Lord, who is great and awesome, and fight for your families, your sons and your daughters, your wives and your homes."

When our enemies heard that we were aware of their plot and that God had frustrated it, we all returned to the wall, each to our own work.

From that day on, half of my men did the work, while the other half were equipped with spears, shields, bows and armor. The officers posted themselves behind all the people of Judah who were building the wall. Those who carried materials did their work with one hand and held a weapon in the other, and each of the builders wore his sword at his side as he worked. But the man who sounded the trumpet stayed with me.

Then I said to the nobles, the officials and the rest of the people, "The work is extensive and spread out, and we are widely separated from each other along the wall. Wherever you hear the sound of the trumpet, join us there. Our God will fight for us!" (vv. 7-13).
While they trusted God and prayed, they also understood that they were responsible for their immediate welfare by posting a guard (v. 9). Notice that while Nehemiah said, "Our God will fight for us," we're also told that "half [the men] were equipped with spears, shields, bows, and armor." This is not a contraction. Prayer is not enough unless it's the only act that we have at our disposal.
They never let down their Guard.
So, we carried on the work with half of them holding spears from dawn until the stars appeared. At that time, I also said to the people, "Let each man with his servant spend the night within Jerusalem so that they may be a guard for us by night and a laborer by day." So, neither I, my brothers, my servants, nor the men of the guard who followed me, none of us removed our clothes, each took his weapon even to the water (vv. 21-23).
One more thing, when Israel's enemies heard that the men were armed and on guard, they had second thoughts about attacking. Human nature has not changed since Cain killed Abel. What has changed is our culture's disregard for human life that begins with babies in the womb.