Gary discusses an article from the Christianity and Civilization series about politics, Christians, and activism.
In Genesis 1:1, God set up two realms, heaven and earth. The goal of history is not for earth to be forsaken, but for heaven to impress its pattern on earth. "Thy kingdom come, Thy will be done on earth as it is in heaven, " we pray. The duality of heaven and earth is to be resolved, eschatologically, when earth has become so like heaven that they are one community. Thus, in Revelation 21 and 22, the New Jerusalem proceeds out from heaven to earth. Indeed, this is what the whole doctrine of the economic procession of the Holy Spirit is about.
In contrast to this Biblical position, platonist Walter Chantry, in a book full of appalling innuendos against some unnamed adversaries (probably British Israelites, from his description), writes:
Who needs stimulation to choose this present world order with its physical objects? This world holds out its arms to us with powerful appeals to the senses. A temporal system looks so inviting. We are drawn by this forceful magnetism of the material. (God's Righteous Kingdom [Carlisle, PA: Banner of Truth Trust, 1980], p. 23.)
There is obviously no room in Mr. Chantry's docetic theology for a physical incarnation of God in human flesh, nor for a physical resurrection such as the Apostles' Creed teaches all catholics, nor for any kind of physical sacramental worship. Of course, Mr. Chantry would not want to push the matter so far, but his disciples doubtless will!
Since the Baptistic individualist sees salvation only in terms of the individual's journey to some other world, some evangelical Baptists have begun to teach that the Bible is inerrant only when it deals with matters of individual salvation. Broader cultural concerns, since they are not within the purview of Baptistic salvation, are not dealt with by Scripture in an inerrant fashion, they say. Clearly, many Baptists reject such reasoning, but the position is consistent with the individualism of Baptist theology. Since the catholic and Reformed faith sees salvation as the restoration of the whole fabric of life, we must see inerrancy as pertaining to every detail of science and history in Scripture, for these are given us as part of our salvation.
Ideas have consequences.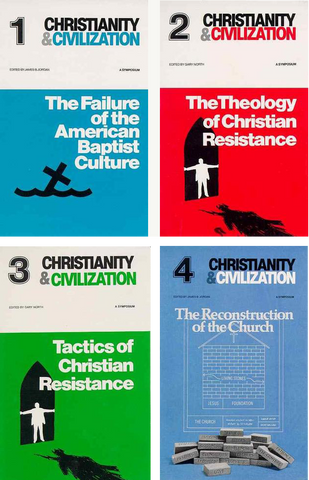 The Complete Christianity and Civilization
The Complete Christianity and Civilization collects all four volumes of the series with a bonus book from Gary DeMar, Something Greater is Here. These five resources are a mini-library of a comprehensive Christian worldview. They will leave you amazed and wondering were they have been hiding all these years. The print versions have been long out-of-print, but they have been preserved as electronic files, which also have the added benefit of being searchable.
Buy Now
Gary discusses an article from the Christianity and Civilization series about politics, Christians, and activism. It's amazing how despite the times, not much has changed and the arguments, strategies, and solutions are still the same. We need to now our history in order to understand our present and how to change the future.
Click here for today's episode