Gary responds to several recent articles about the state of the world and the end times.
While books on the Armageddon theme flood the market, there are a few authors who concern themselves with talk of peace by world leaders: "And now, at long last, the prospect of a peace such as the world has never known before seems to have metamorphosed from an impossible dream to a realistic hope. In fact, the nations of the world will indeed establish an unprecedented international peace, and probably fairly soon. Of this we are certain, because it has been foretold in the Bible for thousands of years that it would occur in the 'last days.'"
So which is it? Should we be concerned about war or peace? On one hand, we hear people addressing the Armageddon issue. On the other hand, concern is voiced over the New World Order with its promises of peace and security. Should we fight the New World Order by clamoring for war? Or should we fight the machine of war by calling for peace? What is a Christian to do? The solution for many is an imminent rapture that will take the church out before a decision has to be made either way. Convenient, but certainly not biblical.
Most people are concerned about the prospects for war. This is why Armageddon talk puts many on edge, especially when such talk is tied to prophetic inevitabilities. If war is in fact a prophetic inevitability, then what can anyone possibly do to avert it? Could we be messing with God's prophetic timetable by sending soldiers to force combatants to consider avenues of peace? But when all the signs seem to point toward an Armageddon showdown, at the last minute some adjustment has to be made to explain why the rapture or Armageddon did not come as promised.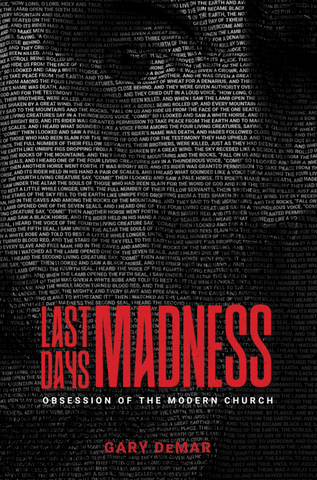 Last Days Madness
In this authoritative book, Gary DeMar clears the haze of "end-times" fever, shedding light on the most difficult and studied prophetic passages in the Bible, including Daniel 7:13-14; 9:24-27; Matt. 16:27-28; 24-25; Thess. 2; 2 Peter 3:3-13, and clearly explaining a host of other controversial topics.
Buy Now
Gary responds to several recent articles about the state of the world and the end times. Christians bemoan the sin and depravity they see around them, but then claim that these things are a confirmation that the "end is near." While the world is certainly in need of repair, things getting "worse and worse" is not proof that the last days spoken of the Bible are in our "near" future and "soon" to take place.
Click here for today's episode